Colorful Tour Rajasthan
Duration:- 12 Nights - 13 Days
Destinations Covered:- Delhi - Jaipur - Nimaj - Osian - Jaisalmer - Jodhpur - Deogarh - Pushkar - Delhi
Day 1 : ARRIVE Delhi
On your arrival at Delhi, you will be warmly welcomed by our Rajasthan Colors Tour representative. You will be transferred to hotel of your choice and in route you may take pleasure of your first sightseeing of Delhi. Relax and stay overnight at the hotel in Delhi with enjoying the Indian cuisine dinner. Stay overnight in Delhi.
Day 2 : DELHI SINGHSEEING
After sunshiny Breakfast take sightseeing tour of historic monument Red Fort- built in red marvel stone, Jama Masjid- the most sacred mosque in India, Chandani Chowk- a foremost shopping hub, you can also explore the market and enjoy the Rickshaw ride. Then move towards drive through Rajpath and its two famous monuments the India Gate- the war memorial built in honor of brave soldiers who made the ultimate sacrifice during World War I and the Afghan War and Rashtrapati Bhawan- the official residence of President of India. Rajghat- burial site of Mahatma Gandhi, Lotus Temple- known as Bhai's house of worship, and then Humanyun's tomb- commissioned by his wife Hamida Banu Begum, Qutab Minar – the world famous Heritage site, tower started in 1192 By Qutub-ud-din Aibak, it is symbol of Victory. In the evening you may have chance to visit light and sound show in Red Fort. Return back to hotel for overnight stay.
Day 3 : DELHI - JAIPUR (258 kms : 5 hrs)
Early morning, after breakfast checkout from the hotel and drive to Jaipur. On arrival meet with our representatives who shall assist & transfer you to a royal palace. In the evening enjoy a traditional Rajasthani dinner at Chowki Dhani- an ethnic Rajasthani resort. Spend a leisurely evening amidst the sand dunes with traditional song & dance program organized at the resort. You shall also enjoy puppet shows, camel ride and organic tattoo called 'Mehandi' applied on your arms. Overnight at the hotel.
Day 4 : JAIPUR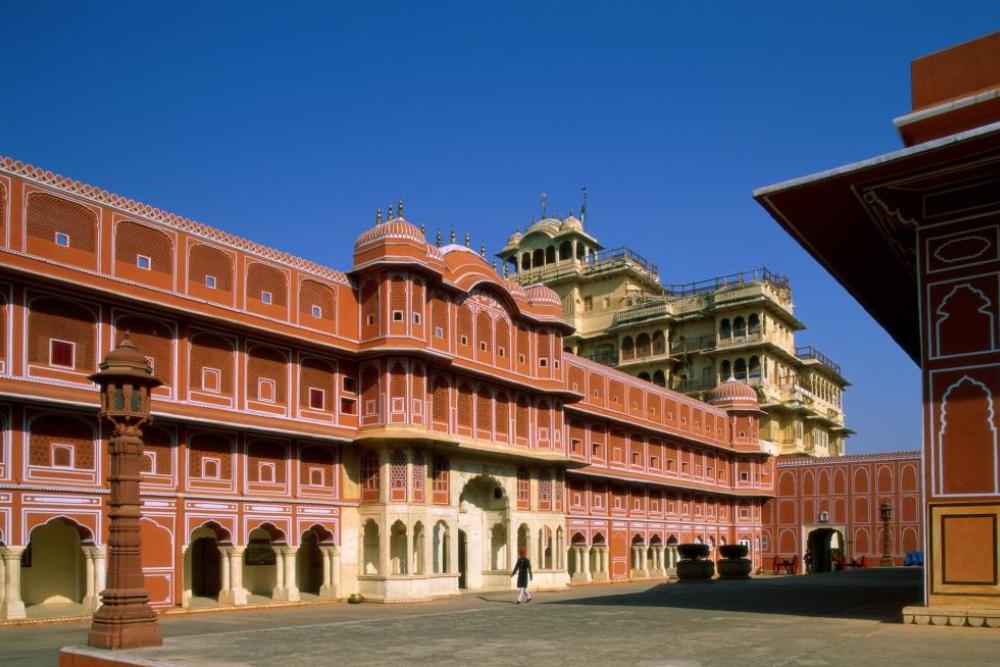 After sunshiny breakfast in the Pink City of India, explorer with an excursion to Amber Fort- located just outside the city, enjoy the experience of ride on elephant back to and from the top of the hill on which the fort is situated. Later continue sightseeing tour of city palace in the heart of Jaipur is known for its blend of Rajasthani and Mughal architecture. Jantar Mantar- is the largest of the five observation built by Sawai jai Singh. Post lunch visit to Hawa Mahal (Palace of Winds) built to allow royal ladies to watch the royal possessions without being seen from outside. Continue toward City Palace- a picturesque fort divided into series of buildings, gardens and courtyards and is also the residence of present royal family of Jaipur. A part of the palace has been converted into museum displaying royal armory, artifacts and other rare articles. Overnight at the hotel.
Day 5 : JAIPUR - NIMAJ (270 kms: 6 hrs)
Today early morning check out the hotel and drive to Nimaj, a small village located in the marwar region in Rajasthan. On arrival transfer to the Luxurious Nimaj palace check in. later visit Nimaj fort followed by a boat road. Watch the birds, go for nature walks, soak in the fresh air, sit around the bonfire and listen to old folk lore - or be more adventurous and take one of the many safaris on offer. Experience the warm hospitality, and enjoy some truly d meals cooked with farm fresh vegetables in the family kitchen. Relax in the tastefully designed and well-appointed tented accommodation. Each tent has an attached bath with running hot and cold water, and its own private sit out overlooking the lake. Overnight at the Nimaj palace.
Day 6 : NIMAJ - OSIAN
After breakfast, as part of cultural Rajasthan tour, we continue drive to Osian, Osian has 15 beautifully sculpted Jain and Brahmanical temples and a tranquil and charming village and upon arrival check-in at a 'Haveli. Here we shall be visiting the 400 years old Osian temple displaying marvelous architecture. Enjoy a camel safari tour in the desert followed by evening camping in the sand dunes. Have dinner under the sky lit full of stars with local artisans performing traditional song & dance program. Overnight at Osian.
Day 7 : OSIAN – JAISALMER (242 kms: 4 hrs)
After a leisurely breakfast, drive to Jaisalmer popularly known as the Golden City of Rajasthan. After arrival and check-in at the hotel, proceed for the tour of famous Jaisalmer Fort- the so called 'living fort' of Rajasthan due to the fact that a large number of villagers still resides inside this historical place. As we enter through its entrance, we shall witness several houses, colorful markets and Havelis inside the fort. Overnight stay at the luxury hotel in Jaisalmer.
Day 8 : Jaisalmer
After sunshiny breakfast, take a sightseeing tour of Jaisalmer, they widely known as Golden city Of Rajasthan. Jaisalmer fort – built on the main tip of the Tricuta hill, consisting of 99 bastions. Outstanding features are Salim Singh –Ki – Haveli & Patwon Ki Haveli, Durbar & various temple- some of the most stunning mansions with the stone carving and latticework of breath taking intricacy. Later after lunch drive to Sam Sand dunes – 45 kms en route visit the ancient temple of Lodurwa, Amar Sagar and Mool Sagar complex, built in 1815. The complex also houses a summer palace where some beautiful paintings and pictures are displayed. On arrival at Sam sand dunes and transfer on camel and enjoy camel safari to discover the various sights and sound, the ruins and the temples in and around the Jaisalmer in an authentic and leisurely fashion entertainment by folk performers. After safari drive back to Jaisalmer for overnight stay.
Day 9 : JAISALMER-JODHPUR (290 kms: 6 hr)
After leisurely breakfast checkout from the hotel and drive to Jodhpur – the Blue City of Rajasthan and also the gateway to the great Thar desert, en route visit to Osian village, wreck of the ancient city called Osian, an oasis in the desert, a drive to this ancient township takes one past undulating territory, punctuated by desert stretches and little hamlets. Osian has 15 magnificently sculpted Jain and Brahmanical temples. Of these, the most outstanding ones are the earlier Surya or Sun Temple and the later Kali temple, Sachiya Mata Temple and the main temple dedicated to Lord Mahavira. After visit continue to Jodhpur, on arrival transfer to the hotel. In the evening you may opt to visit On the Rocks a garden restaurant serving ethnic food followed by live music and folk dance, located at Ajit Bhawan. Later return back to the hotel for overnight stay.
Day 10 : JODHPUR
After healthy breakfast, take a sight seeing tour of Jodhpur including Clock Tower, Mehrangarh Fort situated at an altitude of about 125 meters and is spread over an area of 5 sq. km and it has seven gates, and our major next destination will be world's largest private residence, The Umaid Bhawan Palace. The famine like situation was going through the Jodhpur Region, the fort was built to provide a means of employment to the villagers. The end product was a very impressive and beautiful Palace which is now one of the landmark hotels of Rajasthan. After visit continue to Udaipur, en route visit the Jain temples at Ranakpur temples of 12th century - The cluster of temples, made of intricately sculpted white marble, built out of marbles with 108 carved pillars each carved differently from others, come across as a spectacular souvenir of architecture. You may opt for lunch at Ranakpur at Maharani Baugh Palace. Overnight stay at hotel.
Day 11 : JODHPUR - DEOGARH (172 kms: 3 hrs)
Early morning check out from the hotel and drive to Deogarh, on arrival check in the luxurious Deogarh Palace. You can enjoy jeep safari or bullock cart ride into the village interiors or excursion into the nearby forest where we will be organizing a picnic lunch at a quiet location. Sightseeing include Seengh Sagar palace. In the evening a local fold dance 'kalbeliya' will be organized followed by return to Deogarh palace for overnight stay.
Day 12 : DEOGARH - PUSHKAR
After breakfast drive to Pushkar, the historical, cultural and religious The Lord Brahma Temple Built around the scenic Pushkar Lake. The site holds world's largest humanity during Pushkar Fair and is also revered by Hindus for being the only place in the world where a temple dedicated exclusively to Lord Brahma (creator of world) exists. On the banks of the lake you will see devotees taking dip into the holy waters of Pushkar & offering prayers. Also visit the Pushkar Fair Site, which is right opposite the Pushkar Lake. Enjoy a day at leisure roaming the streets of Pushkar, buying trinkets and souvenirs for loved ones back home. Overnight at Pushkar Palace.
Day 13 : PUSHKAR - DELHI (392 kms: 7 hrs)
Early morning breakfast check out from the hotel and drive to Delhi to board the schedule flight for hometown, on arrival directly transfers to Airport. On departure you must have some sweet memories of Rajasthan colors tour and India.