Palace on Wheels Train Tour
Duration:- 7 Nights / 8 Days
Destinations Covered:- New Delhi - Jaipur - Sawai Madhopur - Chittorgarh - Udaipur - Jaisalmer - Jodhpur - Bharatpur - Agra - Delhi
The Palace on wheels train is one the world's most wonderful journeys, the train provide all major facilities on board such as delicious food, wine, private bath room, newspaper, accommodation, sightseeing as well as organize shopping by private luxury air-conditioned bus, .You will feel royal journey in India or you can say never forgotten tour in India. You will sleep in the history of the land. The tour will be started from New Delhi and ends also in New Delhi for 7 nights 8 Days. In this journey you will be covered the major destination of Rajasthan in order to Delhi- Jaipur –Swaimadhopur-Chittorgarh-Udaipur-Jaisalmer- Modhpur-Bharatpur- Agra – Delhi. This is the royal experience of Rajasthan with Taj mahal. Train runs every Wednesday from New Delhi.
Day 1 : Wednesday, Departure 06:30 PM
The tour starts in the evening with traditional Indian welcome aboard the Palace on wheels at Safdarjung New Delhi. At railway station treated like Maharaja and Maharani on Welcome by Garlanding, traditional Tikka, turban with Glass of wine. You will be introduced to your fellow travelers. In this tour feels free and explore the new palace and enjoy with its various facilities. Relax with a drink at the bar and Dinner will be served on board in two restaurants.
Day 2 : Thursday, Arrival 3.45 AM Departure 11.30 PM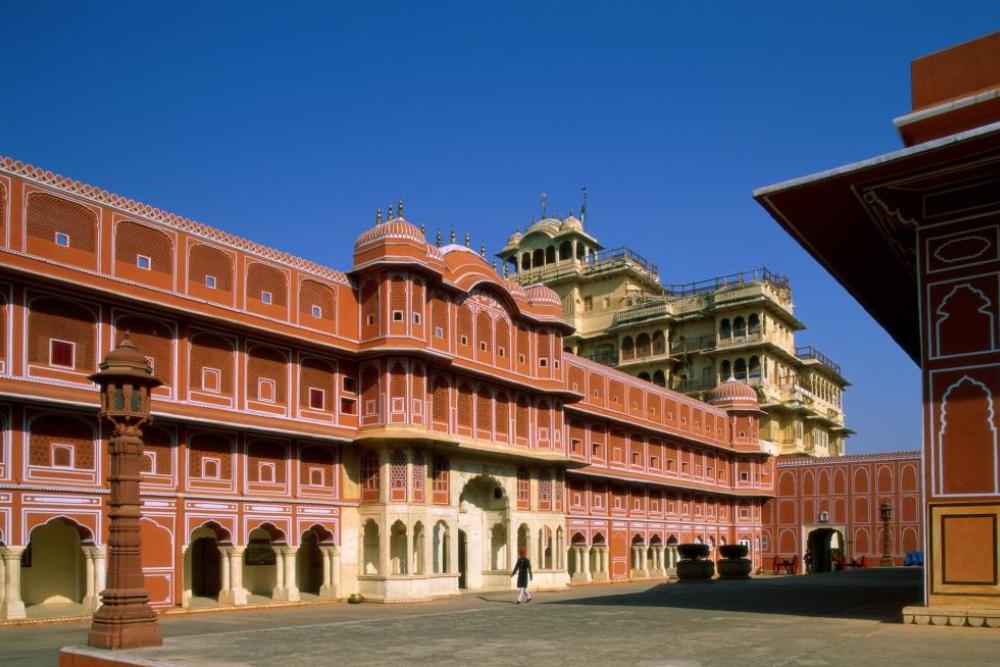 Welcome to Pink city, Jaipur by air conditioned coach takes you to Hawa Mahal or Palace of wind, it was constructed for the royal ladies to watch the royal processions without being seen, followed Jantar Mantar – the largest stone observatory in the world, visit City palace- complex covers a huge area which is divided into a series of gardens, courtyards and buildings, the royal splendor museum, and great shopping center for handicraft and other things. Jaipur is famous for hand block printing on textile. Lunch at Amber Fort – After lunch you can enjoy the festively decorated elephant for ride up the fort. Later visit the hall of victory Jai Mandir has dazzling ceiling decorated with mirror work an inlaid panel. Return to train by Bus for fresh up after the rest enjoy the dinner in one of the best hotel of Jaipur and return to Palace on wheels.
Highlighted of this tour for this season
Lunch Venue at famous Amber fort
Day 3 : Friday , Swai Madhopur Arrival 5.30 AM Departure 10.30 AM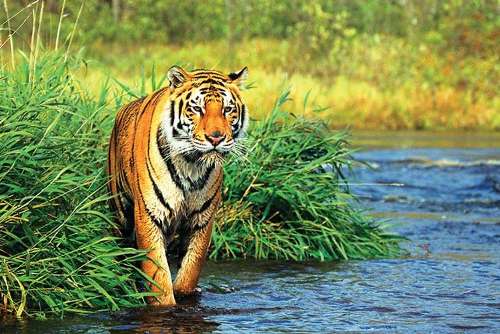 Sawai Madhopur- The Ranthambhor tiger reserve at Junction of the A Aravali Hill ranges and the Vindhyan highland get together, the Ranthambhore National Park was once the hunting preserve of the Maharajas of Jaipur. There are three big Lakes Padam Talav, Malik Talav and Raj bag are alike in region. You will say delicate eco system. Visit to the Ranthambhor National Park located in 10th centaury fort . While travelling in this jungle you can see activities of tigers, the Park covering an area of 392 sq. kms and have 300 species of birds. Later return to the Palace on wheels for breakfast on board.
You will leave for Chittorgarh and enjoy the afternoon on train see green country side before arriving to Chittorgarh. Lunch on Board.
Chittorgarh :- Arrival 4.00 PM Departure 2.00 AM
Chittorgarh fort is the considered as the largest fort of India, built by various Mauriyan rulers during 5-8th century, this area covers 680 acres most of the structure inside of the fort grounds are in the ruins. Beautiful queen Rani Padmini had been the residence constructed by Master piece of Rajput Architecture Padmini Palace. In the year 1313 Alaudhin Khilji after knowing about the beauty of the queen attack on the fort.
Highlighted of this tour for this season
1. Light & Sound show at fort.
2. Dinner on Board
Day 4 : Saurday, Udaipur Arrival 8.00 AM Departure 3.30 PM.
Udaipur is a beautiful city situated on Aravalli Ranges of the Rajasthan and surrounded by lake is called the city of lake, was founded by Maharana Udai Singh of Mewar, after Sisodia dynasty was driven way by the Mughals. City Palace built in 1559. In Udaipur the main attractions are Jag Niwas, Jag Mandir, Lake Pichola, Garden of Udaipur. After lunch visit City Palace- the largest palace complex in Rajasthan situated on a crest overlooking the Lake Pichola.
Highlighted of this tour for this season
Breakfast on board.
Lunch at Palace Hotel.
Visit to Crystal Gallery
Boat ride.
Day 5 : Sunday Jaisalmer Arrival 9.15 AM Departure 11.45 PM
Jaislamer – the Golden City of Rajasthan has a charm of its own, In the heart of the Thar desert lies Jaisalmer, founded by Rawal Jaisal in 1156 AD, One of the greatest Royal bastions of the world. You can visit Jaisalmer fort, it was built in the highest point of the Tricuta hill and visit to Patwan ki Haveli, Salim ki haveli, Nathmalji ki Haveli, this is fusion of the architecture of ancient and medieval era. Shopping and lunch at Moomal Hotel. After lunch drive to Sam Sand Dunes – 42 km from Jaisalmer, en routes visit ancient temple, The complex of Amar Sagar and Mool Sagar where some beautiful painting and picture are displayed . On arrival at Dunes and transfer on camel for enjoying camel safari to see the various sight and sounds, and temple in and around of Jaisalmer. AS the sum sets the rolling golden dunes the surreal experience is worth. You will enjoy dinner with the cultural performance by local artist in dunes.
Highlighted of this tour for this season
Enjoy Rajasthani food with traditional music and dance.
Evening Tea, Sun set & Dinner with Bar- be-que, Samdhani

Dinner at Palace Hotel.
Day 6 : Monday, Jodhpur Arrival 7.00 AM Departure 3.30 PM
Special welcome on arrival in Jodhpur and take a sightseeing of fort followed by lunch at star hotel.
Jodhpur is the former capital of Marwar but now is called Jodhpur due to the chief of the Rathore clan, is credited with the origin of Jodhpur in India. The Mehrangarh Fort was built by Rao Jodha in 1459 and later his added new series of structures for new fort. Meharangarh Fort situated on 120m high rocky hill and is spread over an area of 5 sq. km and have seven gates. Fort stand on strong and wide walls, which are 125 feet high and 70 feet thick its huge structure and carved intricate sculpture are a treat for eye and visit Jaswant Thada is white marble built in the memory of Maharaja Jaswant Singh II. Later visit Umaid Bhavan Palace- Maharaja Umaid Singh loves western lifestyles hired a famous Edwardian architect, now presently functions as a hotel in Jodhpur and Museum. Shopping of local handicrafts.
Lunch at 5 Star Hotel. After lunch back to Palace on Wheels, dinner on board.
Day 7 : Tuesday, Bharatpur Arrival 5.00 AM Departure 8.45 AM
Earlier named of Bharatpur was Bharata, Bharatpur was founded by Maharaja Suraj Mal in 1733 AD, He made the state a formidable force in the region. Suraj Mal who captured the site of Bharatpur from Khemkaran, a son of Rustam, From 17th Century on wards was dominated by Jats, Bharatpur a royal kingdom where the jats, rather than the Rajputs, ruled.
The Keoladeo Ghana Natiional park one of the best bird sanctuary Park in the world. The Keoladeo National park or Keoladeo Ghana National Park formerly known as the Bharatpur Bird Sanctuary It was declared a protected sanctuary in 1971. During winter season you can see over 250 species of bird and Siberian crane and China. Water could be canalized for the hunting preserve as the Maharaja of Bharatpur wished to create.
Highlighted of this tour for this season
Breakfast on board.

Tuesday Agra
Arrival 10.30 AM Departure 11.00 PM
Welcome to Agra to see the world's most well known monuments and well worth its fame. The Taj mahal - one of the most recognizable structures in the world and also called UNESCO world heritage site, It was built by Mughal emperor Shah Jahan in memory of his lovely wife Mumtaz. Taj Mahal is the monuments of a man's love for a woman. In Taj Mahal used precious stones and white marble, A Taj Mahal completed in 22 years and employed came not only in India but also over the world.
Highlighted of this tour for this season
Lunch at Palace Hotel.
Day 8 : Wed :- Delhi
Early Mornning arrive at Delhi Safdarjung Railway station. Breakfast on board - Check out and proceed for next destination with the great memories.