Temples Tour South India
Duration:- 11 Nights / 12 Days
Destinations Covered:- Chennai – Tirupati – Pondicherry – Tanjore – Trichy – Madurai – Rameshwaram – Kanyakumari – Trivandrum - Hometown
Day 1 : Chennai Arrival
On arrival our company representative meet and assist you and transfer to hotel by private air-condition car. Now you're welcome to India for South Indian temples tour package. Overnight at the hotel.
Day 2 : Chennai
After breakfast visit Chennai. Chennai is the gateway of south India touch with different phase of India – classic, Gentle, and Ancient. Chennai formerly known as Madaras and Its spread over 51 miles. Later take a sightseeing of Chennai visit The St. George Fort, built in 1653 inside the fort is the Museum which is decorated with cannons of Tipu sultan and also you can visit St. Mary's Church which is the oldest English Church in India. Another attraction of Temple in Chennai Kapaleeswara Temple dedicated to Lord Shiva and Parhsarthy Temple dedicated to Lord Krishan. In evening visit flower and fruits market or Marina Beach which is second largest beach in the world. Overnight at the hotel.
Day 3 : Chennai – Tripati (140 Kms 2 ½ hrs)
After breakfast drive to Tripati. On arrival transfer to hotel. Tripati – A temple and pilgrim town situated on the foot of the Tirumala Hills, A temple of Lord Venkateshwara stands. It is famous temple in the centre of south. The ancient and sacred temple of Sri Venkateshwara spread over seven hills and also called the Lord of the seven hills. Later afternoon visit Lord Balaji- One of the largest temples in the world. It is situated in the Eastern Ghat in chittoor district. The temple is dedicated to Lord Venkateshwara (God Vishnu). Overnight at the hotel.
Day 4 : Tirupati – Mahabalipuram (175 km 4 hrs)
After breakfast drive to Mahabalipuram. On arrival transfer to hotel. After some relaxation visit ancient Pallava port which was built in 7th Century. There are many temples excavated in hill scarps of Mahablipuram, which are called Mandapas. One of such famous five-cave temple is the one at Trimurti. Visit Severn Pagoda style shore temples, ahishasurmardini cave, Varaha temples , Mandapa and mandapanms and some group of temples and monuments around them. The only beach temple which remains here is spectacular two spired shrine, its very unique due a house both god Lord Shiva and the Lord Vishnu in its sanctum sanctorum. Later return to hotel for overnight.
Day 5 : Mahabalipuram – Kanchipuram – Mahabalipuram
After breakfast drive to Kanchipuram (70 km ½ Hrs drive). Visit India's seven sacred cities and temple town. There are many temples surrounded Kailasnathar, Ekambareshwara, Kamashiamma , Vaikuntaperumal and Sakiswara, you can do shopping of silk cloth and weavers home. Kanchipuram is famous for its particularly fine silk saris . Later drive back to Mahabalipuram, Overnight at the hotel.
Day 6 : Mahabalipuram – Pondicherry (92 km 2 hrs)
After breakfast drive to Pondicherry. On arrival transfer to hotel. Pondicherry is a union territory which is in the southern part of India, The capital of the French colonies in India since 17th century. Later visit Aurobindo Ashram, founded in1920, the residence where the Sri Aurobindo and revered Mother Mirra Richard, known as Maa. Visit Ecole Francoise d'Extreme Orient, which is closed nearly 102 yrs old, the French institute dedicated to the Study of Asian Societies. The French catholic church, The church of our lady of Angles (1855), famous for an oil painting. later visit Museum and botanical garden. In evening visit some famous temples are Manakula Vinayagar Temple & Kamakshi Amman Temple. Overnight at the hotel.
Day 7 : Pondicherry – Trichy (203 km 4 hrs)
After breakfast drive to Trichy en routes visit Tanjore, Brihadeshwara temple- was constructed more than thousand years ago by the King Rajarajan and is termed as the crowning glory of Chola temple architecture. This temple listed with World Heritage site in India. Later visit the Thanjavur Palace- Thanjavur is the royal city of the Cholas and Nayaks was constructed in 1550 and has vast corridors, large halls, shady courtyards and observation and arsenal towers. Built by the Nayaks in the mid-16th century. Visit Saraswati Mahal Library; one of the important oriental manuscripts collections in India, established in 1700 AD. Some paper manuscripts are in Indian and European Languages in this library. Later drive to Trichy . On arrival transfer to hotel. Overnight at the hotel.
Day 8 : Trichy
After breakfast visit city of Trichy (Tiruchirappally). Visit Rock Fort Temple- one the largest temple and the most interesting temple in India, The collection of three temples, Manikka Vinayakar Temple at the foot of the hill, the Taayumaanavar Koyil shivastalam on the hill and The Uchhi Pillayar Koyil at the top of the hill. Later visit Siva Lingam and seven Gopurams another pilgrimage site .Evening free for relaxation and own activities. Overnight at the hotel.
Day 9 : Trichy – Madurai (130 km 3 hrs )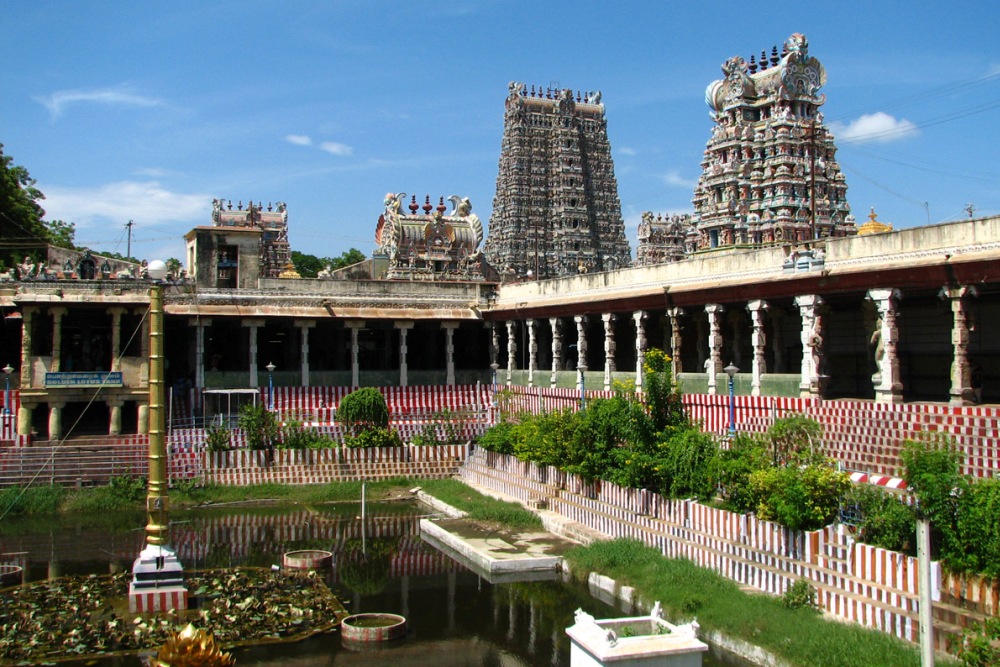 After breakfast drive to Madurai. On arrival transfer to hotel. After relaxation visit great Meenakshi Temple- one of the largest temple complex in India built in 16-18th centuries. Meenakshi Temple dedicated to lord Shiva with ten towering temple around the temple. Later visit Palamuthirsolai Murugan Temple and Tiruparankundram Murugan Temple. After lunch visit Tirumal Nayak's Palace – was built 17th century by King Thirumalai Nayak. In evening visit Meenakshi temple for special evening Aarti . Overnight at the hotel.
Day 10 : Madurai – Rameshwaram (172 kms / 4 hrs)
After breakfast drive to Rameshwaram. On arrival transfer to hotel. Rameshwaram is one of the sacred pilgrimage destinations of India. The island of Prayer is considered to Varanasi of the south the major Pilgrimage centre is on an island in the Gulf mannar. The temple built in 12th Century AD have long corridors, tower and 36 theerthams. Later visit many temples around the Rameshwaram. Evening visit colorful markets and Overnight at the hotel.
Day 11 : Rameshwaram – Kanyakumari (255 kms / 6 hrs)
After breakfast visit to Adam's Bridge- is chain of reefs , sandbanks and islets that connects Sri Lanka with India. The bridge is 30 km long and separates the Gulf of Mannar. According to legend, this is the series of stepping stones used by Hanuman (Monkey Army )to follow Ravan, in his bid rescue Sita. Later check out and drive to Kanyakumari. On arrival, transfer to hotel. After relaxation visit Kumari Amman Temple, Gandhi mandapam and Vivekanada Memorial. In evening watching sun set from here is the big attraction due to meeting point of three ocean bodies – the Indian Ocean, the bay of Bengal and Arabian Sea. Overnight at the hotel.
Day 12 : Kanyakumari – Trivandrum – Home Twon
Today morning to see the Sunrise from lake of ocean. After breakfast drive to Trivandrum City, the capital of the state of Kerala is a beautiful seaside city built on seven hills. Visit the famous temple of Trivandrum Sri Padmanabhaswamy Swami Temple dedicated to lord Vishnu. Later continue drive to airport to board the scheduled flight to home town. Tour concludes with happy memories.