India Nepal Buddha Tour
Duration:- 12 Nights / 13 Days
Destinations Covered:- Delhi – Khajuraho - Varanasi - Shivpatinagar - Chitwan - Pokhara - Kathmandu - Delhi
Day 1 : Arrival Delhi
On arrival our company representative meet and assist you and transfer to hotel by private air-condition car. Now you're welcome to India for the India Nepal Budha Tour . Overnight at the hotel.
Day 2 : Delhi Sightseeing
After breakfast being the your tour and visit the largest mosque in India – Jama Masjid and visit original capital of Mughals -Red fort built by Shah Jahan. Then move to Chandi Chowk for rickshaw ride, this is major attraction of International tourist. Rajghat the resting place (samadhi), Memorial of Mahatama Gandhi. Now enjoy with New Delhi sightseeing such as India Gate the memorial of India soldiers martyred, President House the imperial residence of British. One the most famous temple is called Bhai's temple (Lotus temple), Qutub Minar – built by qutub –ud- din Aibek. It is 72.5 metres high and one has to climb 379 steps to get to the top. Humayun's tomb -This excellent piece of architecture was said to have been the major idea that is said to have inspired Shahjahan to construct the wonderful, Taj Mahal at Agra. Optionally you can enjoy light and sound show at Red fort at evening time. Overnight at the hotel.
Day 3 : Delhi – Khajuraho (By Air)
After breakfast drive to airport to board the scheduled flight to Khajuraho. On arrival transfer to hotel. After relax visit Khajuraho is known the world over for its erotic temple, architecture and sculpture. The construction of these temples are 22 yrs, One of the India's most popular tourist attraction next to the Taj Mahal. You can visit one of the largest group of Western group and Easter group temple. Most of temple dedicated to lord shiva and Vishnu. Evening at leisure and Overnight at the hotel.
Day 4 : Khajuraho – Varanasi (By Air)
After breakfast visit Eastern group of temple which consists Hindu and Jain temples. The largest temple is the Jain temples of Parsvamath, Adinath and Shanti Nath. Also visit Archaeological museum with its collection of stone sculptures of the Chandela dynasty. After sightseeing drive to airport to board the scheduled flight to Varanasi. On arrival transfer to hotel. After relaxation take excursion to Sarnath (10 km from Varanasi). In Sarnath visit deep park and Bodhi tree where Lord Buddha perched his first sermon, visit Chaukhandi Stupa, dhamek Stupa and Sarnath Museum. Later return to Varanasi. Evening at free and own activities. Overnight at the hotel.
Day 5 : Varanasi
Today early morning boat ride on the holy river Ganges to view the spectacular sunrise and to witness the rituals that take place along the ghats. Later return to hotel for breakfast and rest. After lunch visit Banaras Hindu University – largest residential University in Asia. Which is spread over 300 acres of land, Banaras Hindu University founded in 1916-1917 by Pandit Madan Mohan Malaviay, the great nationalist leader. Later proceed on the tour temple in Varanasi, Kashi Vishwanath Temple dedicted to lord Shiva, Durga temple dedicated to goddess Durga on 18th C entury and also you can say monkeys temple due to large number of monkey founded in this temple. In evening you can visit beautiful market for Varanasi Sarees and handicraft. At time of sunset again you can visit Ganges river to see Aarti on bank of river, where many tourists and thousand of devotees attend to see the Aarti and pray to God. Later return to hotel for overnight.
Day 6 : Varanasi – Shivpatinagar
After breakfast drive to Shivpatinagar en routes visit Kushinagar- Lord Gautam Buddha breathed his last. Visit Niravana Stupa, Rambhar Stupa and temple. On arrival transfer to hotel. Kushinagar is a small town where the Buddha Passed away. In afternoon visit Kapilvastu- the place where Lord Buddha spent a good period of life from childhood to youth. Later return to hotel and have a delicious dinner and Overnight at the hotel.
Day 7 : Shivpatinagar – Chitwan
After breakfast drive to Chitwan en routes visit Lumbini (Birth Place of Buddha). Buddha was born in 623 BC. Lumbini is listed in World Heritage site and situated at the foothills of the Himalayas. Visit Sacred Garden – Where Buddha was born converges on the Ashoka Pillar, Maya Devi temple- Maya devi (Mother of Buddha), the temple was built over an Ashokan stupa. The Ashokan Pillar – erected by Ashoka (249 Bc), the pillar on the spot of Buddha's birth. Lumbini gave a message of universal laove and brotherhood. Later proceed to Chitwan. On arrival transfer to resort. Evening at leisure and Overnight at the hotel.
Day 8 : Chitwan National Park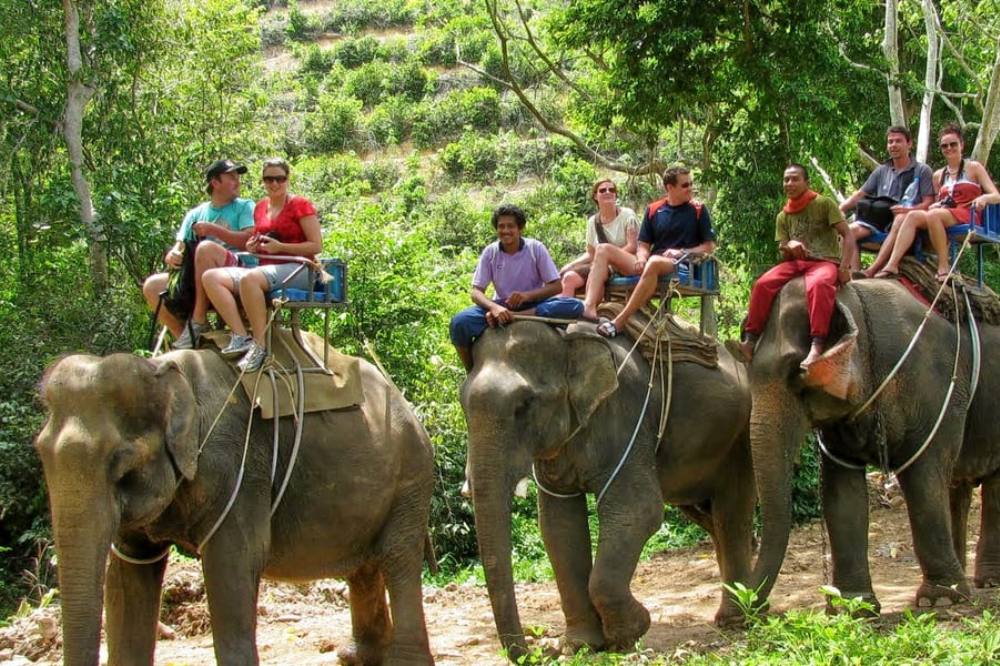 After breakfast visit Chitwan National Park – it was situated in Chitwan Doon and establish 1973, Covering the area of 932 sq km it provides a great wildlife experience with its rich flora and fauna. Chitwan have a great place for nature lovers. The National park having 400 different species of birds, tigers, 65 different of butterflies, 52 different species of mammals and single horned Asian rhinoceros. You will have great experience and the whole day with Jungle activities. In the park enjoy an elephant back safari to see one horned rhinoceros and other species of animals. In evening enjoy with traditional cultural program and over night in hotel.
Day 9 : Chitwan – Pokhara
Today morning drive to Pokhara. Pokhara is the center of adventure and situated at an altitude of 872 m from the sea level and 200 km west of Kathmandu. The delightful city nestled in tranquil valley, it's the most interesting place for trekking and rafting. On arrival transfer to hotel. After relaxation trekking to Naudanda. Naudanda offers the dramatic view of the twin tails of Machapuchhre and the massif Dhaulagiri. After trekking return to hotel. Overnight at the hotel.
Day 10 : Pokhara
Today morning at time of sunrise visit to Sarankot (9 km from Pokhara) for beautiful sunrise view. Sarankot – one of the most popular destinations in Nepal. Later visit city of Pokhara. Visiting Barahi Temple- built on an island in Phewa lake, Devi's Fall – Awesome waterfall and evening visit local market of Pokhara. Overnight at the hotel.
Day 11 : Pokhara – Kathmandu
After breakfast drive to Kathmandu. On arrival transfer to hotel. Kathmandu is covered with Hindu and Buddhist divinities. In Kathmandu have out of 10 UNESCO World Heritage Sites, 07 Cultural heritage sites in Kathmandu Valley, its filled with temples, museum and beautiful pagodas. After relaxation visit Swyambhunath: one of the world's most delightful and the oldest Buddhsit Stupa, Pashupatinath- Nepal's holiest Hindu Pilgrimage site , situated on the bank of River Baghmati, Bouddhanat- is the largest stupas in the world and it has become the focal point of Tibetan Buddhism in Nepal. In evening enjoy with shopping and Overnight at the hotel.
Day 12 : Kathmandu - Patan - Kathmandu
After breakfast take full day excursion to Patan- situated on the sacred Bagmati River, listed in the UNESCO World Heritage. It is a spiritual city with Durbar Square in the centre and many Stupas , temples and shikaras. The City covered with a thousand golden roofs. Patan is famous for its arts and crafts. Later afternoon return to Katmandu. Overnight at the hotel.
Day 13 : Kathmandu – Delhi - Hometown
After breakfast drive to airport to board the scheduled flight to Delhi. On arrival to board the connecting flight to home town. Tour concludes with happy memories.